Editor's note: go out of Taiwan to see the world and stop clinging to the "small happiness" in life. In recent years, Jiangsu has launched a series of practical measures to support Taiwan youth's study, internship and employment. In particular, more than 50 youth entrepreneurship platforms with cross-strait elements in Jiangsu provide good development opportunities for Taiwan youth and attract them to bid farewell to the "small happiness", Come to Jiangsu to create a "great future". The number of Taiwan Youth Entrepreneurs coming to the Soviet Union has reached a new high, giving birth to a number of Taiwan youth entrepreneurship Hakkas.
The all media International Communication Department of Xinhua Daily launched the "Taiwan Youth HAKKA" column to pay attention to their struggle and life, experience their bitterness, bitterness, bitterness and sweetness, describe the close relationship between Jiangsu and Taiwan, and tell the story of how Taiwan youth fight and create a "great future" in Jiangsu.
---
Intersection news has bright eyes and a heroic inch. Even when working at a desk, he can't hide his capable and straight figure. He is Wang Yixiang, assistant to the general manager of xuyao new materials (Huai'an) Technology Co., Ltd. Stay in the mainland and choose Huai'an. Wang Yixiang, a "post-80s" Taiwanese youth, takes over the "baton" of his parents and starts a business again. He does the work he loves, lives the life he yearns for, and becomes a unique self. After living in Huai'an for five years, he likes the climate with four distinct seasons and the profound humanities here. Even during the epidemic, his career can still seize the development opportunity of "double cycle", turn danger into opportunity and rise against the trend. Most importantly, here are his career ideals gradually realized in his struggle.
Inherit the baton of my parents, take root in Huai'an and start a business again
Xuyao new material (Huai'an) Technology Co., Ltd. was founded by Wang Yixiang's parents. Now it still has an industry in Taiwan. With the mission of inheriting his father's career, Wang Yixiang went to Japan for further study after finishing his university in Taiwan and made achievements in enterprise management. In 2009, Wang Yixiang came to the mainland for development. At the beginning, he settled in Shanghai and set up a dry process paper processing and logistics center.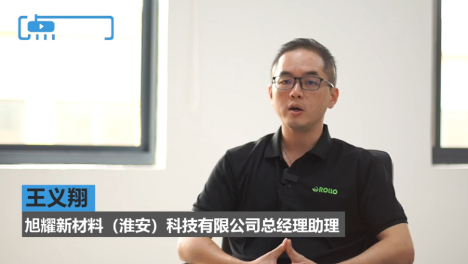 In 2014, with the strong support of China Merchants of Huai'an Economic and Technological Development Zone, he decided to locate the production center in Huai'an, radiate and extend outward with Huai'an as the center, and build an operation center integrating production, R & D, sales and logistics. "We chose Huai'an after many investigations. Historically, Huai'an was the intersection of 'South ships and North horses', with superior geographical location and climate suitable for taking root and development." Wang Yixiang said. The company's raw materials are mainly imported, while its products are mainly exported. Huai'an is not far from the port, and land transportation is very convenient. "In recent years, the development of Huai'an has changed with each passing day. With the completion and opening of high-speed railway, the traffic position of Huai'an will be further improved." The reason why we choose the "integrated" production process is based on the consideration of improving product quality and stability and obtaining the advantage of production cost.
Wang Yixiang witnessed the company from building factories brick by brick, to the assembly of each part on the production line, and then the two production lines were put into production one after another. He did everything himself. In his eyes, this is not only his own company, but also a stage for him to display his ambition; Running a company is not only doing business, but also unremitting "re entrepreneurship". "Entrepreneurship is different from doing business. For me, entrepreneurship is a process of realizing my life value. Self satisfaction also means a social responsibility and feedback to the society." He said. As "creating the second generation", they have not only been influenced by the business philosophy of their parents, but also received professional higher education, and their vision is more international and cutting-edge. Now, Wang Yixiang is committed to continuously "promoting" the business from the processing at the end of the manufacturing industry to high-end equipment R & D and manufacturing. "There are more than 4000 drawings in one of our production lines, which are completely self-developed, manufactured and installed, and have obtained application patents and invention patents." He said, "independent research and development and independent manufacturing are in line with the spirit of Chinese enterprises."
Realize localization and build a model enterprise of "intelligent manufacturing" in Huai'an
Choosing a city is to grow with it. "Localization" is one of Wang Yixiang's goals. Talent recruitment is the first step of company localization. Nearly 100 employees of the company are almost all local people in Huai'an. He also hopes to attract more talents from local colleges and universities in Huai'an. On the one hand, he will contribute to local employment, on the other hand, he will also rely on local talent support to promote the growth of enterprises. Wang Yixiang believes that "both the talent reserve and the cultivation of satellite manufacturers need to be firmly combined with the local situation. When you come, you have to adapt to the local environment and culture, in other words, grounding gas. Only grounding gas can an enterprise take root in the local area and achieve long-term development."
From Taiwan to Shanghai, and then from Shanghai to Huai'an, Wang Yixiang has brought not only rich working experience, but also a more cutting-edge perspective and pursuit. Whether it is the independent R & D and installation of production equipment or the construction of the "four in one" operation center, it is his practice of his entrepreneurial philosophy. In his opinion, at present, the whole manufacturing industry in the mainland is changing to "intelligent manufacturing" and pursuing the "integration of industrialization and informatization". He hopes that his company can take the lead and become a model of "intelligent manufacturing" in Huai'an.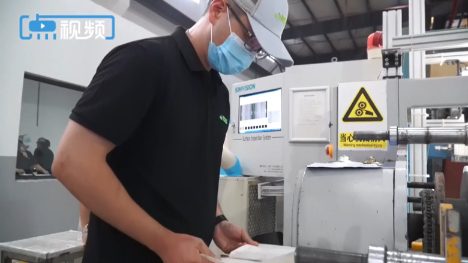 The difficulty is not without, "affected by the epidemic, the sales revenue this year decreased compared with the same period last year". However, after the service group of the Taiwan Affairs Office of Huai'an Municipal Party committee learned that, it soon helped the enterprise contact several hotels and companies in the urban area to discuss cooperation matters. Finally, xuyao new materials successfully established a cooperative relationship with Dingli Hotel and broadened domestic sales channels. "This time, the crisis turned into a turnaround thanks to the government's matchmaking and the adjustment of the company's sales ideas. During the epidemic period, the company developed many terminal products more suitable for the mainland market, and the total output value increased instead of decreasing compared with the same period last year. It also actively explored the mainland market, realized the" same frequency resonance "between domestic and export sales, and successfully increased the proportion of domestic sales by 30% to reach the total sales 50% of sales. " Wang Yixiang said, "the 'double cycle' is a rare new opportunity for Taiwan enterprises. Under this new pattern, our Taiwan funded enterprises will face many new development opportunities. Under the new development pattern of 'double cycle', we must pay more attention to the domestic market and supply chain in the mainland."
Where the body is, where the heart is safe is my hometown
"When I go out to take a taxi in Huai'an, I can quickly judge whether the driver is from the city, Huai'an district or Lianshui according to his accent." Wang Yixiang said with a smile that after living in Huai'an for five years, it has become his "second hometown" and his accent has been "assimilated". In recent years, the rapid development of information technology in the mainland, the most obvious is the change of payment methods. "I'm used to going out with only a mobile phone in Huai'an. I can scan the code everywhere to pay. It's very embarrassing to go back to Taiwan several times. I don't bring my wallet when inviting people to dinner, and I can't pay for shopping in convenience stores..." he smiled and recalled his "embarrassing" incident, "To tell you the truth, I want to come back soon after I have been in Taiwan for less than two weeks. One is that I can't let go of the company and get used to the life of Huai'an. There is another reason. I like the climate of Huai'an, which has four distinct seasons and is not as hot and humid as Taiwan." Wang Yixiang likes the weather in Huai'an, but the weather in Huai'an has also brought him trouble. "In April and may, there are floating poplar catkins, especially there is a large poplar forest around us, and our production requires a particularly high degree of cleanliness of the environment."
Wang Yixiang, who just got married this year, bought a house near shuidukou. His wife will come to Huai'an from Taiwan to live with him, and his parents often come to live. "My parents especially like to take the tram to visit the Zhou Enlai Memorial Hall and the ancient town under the river. Sometimes when they are tired, they find a small restaurant to eat." Wang Yixiang said, "Huai'an is worthy of being a hometown of delicious food. Its food culture has a deep and developed history. There is a small restaurant on the roadside, and the food is very delicious."
"Our generation doesn't have a deep 'hometown complex' like our parents. This place of peace is my hometown. I'm used to the life in Huai'an, and Huai'an has my career, so it can be regarded as my hometown." Wang Yixiang looks forward to having children in the future, let them go to school in Huai'an, and then choose where to "fly" when he grows up. And I focus on the present and do everything well, "build this place as a home. I think this is the sense of belonging I feel".